Englisch version - NL versie onderaan
SDR Receiver interference and solutions
The Hard Truth
In these days it is unfortunately no longer possible to receive good signals indoors with an indoor antenna. Even with a good outdoor antenna, additional precautions must be taken. This is because in the last 10 to 15 years there has been an abundance of devices that cause interference on the power grid and in the air inside the house. Almost every modern electrical device has a power supply with switching parts.
The devices themselves are not bothered by this, but they do pollute the air and the power grid with strong magnetic interference pulses.
In this way, with a sensitive radio receiver such as an SDR and an indoor antenna, it is impossible to receive pure and good signals.
For the sake of clarity: this is not about strong FM radio or broadcasting stations, but about all other service signals such as weather photos, Telex, Morse, City or Port services and many others. The disturbance must be seen as an additional noise in the receiver, which is so strong that weaker signals can no longer get through, and therefore simply cannot be heard anymore, because the noise-floor is too high in the receiver.
| | | | |
| --- | --- | --- | --- |
| | | | |
| Power Supply | DECT Telephone - Repeater | WiFi Booster - Router | Energy Save Lamps |
Interfering devices are especially those with a "thick" power adapter such as TVs, LCDs, laptops, printers, telephones, WiFi, modems and others.
But all fluorescent lamps, energy saving lamps and LED lamps and others are also very polluting.
| | | | |
| --- | --- | --- | --- |
| | | | |
| TL Lamps | LED Lamps | TV - Plasma - LCD | Tablet - Laptop |
Suppose you use an outdoor antenna to get a better signal without interference, even then you are in trouble. Because the interference radiation inside each house is so great, every piece of wire of 0.5 meters or more in the house will also be in this interference, and will behave like an antenna.
The malfunction occurs on the outer shield of the wire, so any shielding no longer makes sense.
What's more: the interference will creep up on an antenna cable, direction towards the antenna element, and thus also be received, plus the useful (weak) radio signal it will go back to the receiver input, where a bad signal will then being received.
The same happens on the power grid. All disruptive devices transmit their interference to the power outlet, and all wires in the house become radiant interference sources.
The fault also comes on the earth wire of the power grid, so that the earth wire largely loses its function as a shield.
If you also connect your radio receiver to the mains earth, it will only get worse.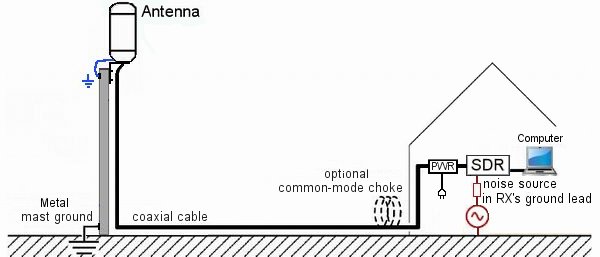 So make sure that the earth (or the box) of your receiver is NEVER connected to the earth wire of the power grid, or interrupt this wire.
Instead, connect your receiver to a clean earth with a ground wire directly outside, and with a metal ground pin of at least 1 meter in the ground.
The problems with the interference on all wires, and primarily on the antenna wires, can only be partially solved. This can be prevented by passing on the interference radiation on the antenna cable.
A "mantle current" coil is placed at the beginning and at the end of each important antenna cable. Here in the picture, one just outside the house.
( Not only on antenne cabling, also on USB cables and Power Supply cables, you see that "thick" thing on the begin and end of the cable )
| | |
| --- | --- |
| | |
| USB Choke and a Click On | Cable Balun and aRingcore balun |
This will prevent most of the radiation from being transmitted forward to the antenna.
Mantle current coils exist in various designs. The simplest version is to make a coil with 10 turns with the antenna cable itself, and wind this on a plastic tube of 6 to 8 cm in diameter. The best but most difficult and most expensive method is to use a special large ferrite ring core, where the antenna cable is also wound a number of turns around the ring core.
The ferrite core is made from a special powder-iron. This listens to the name FT240-43, and sometimes also calls a "Common Mode Balun". You will find enough information about this on the internet.
If you still want to try an indoor antenna, do not do it on the ground floor, but on the top floor, and then on a window.
That is the only chance that you will have some reception. Try to disrupt as much as possible with ferrite beads. But don't expect too much.
Despite everything, with a good commercial all-band radio receiver you can achieve results.
But remember that these work completely differently, compared to a cheap SDR stick, which is very sensitive, but has no pre-filtering or protection or suppression against strong signals, cannot mirror (double) frequencies away (false signals) has a poor dynamic range and cannot withstand storms.
But it is nice and tempting to see what is possible with an SDR stick.
See also the link
SDR Antenna Considerations
---
NL Versie
SDR Ontvanger storingen en oplossingen
De harde waarheid
In deze dagen is het helaas niet meer mogelijk om binnenhuis met een binnen-antenne goede signalen te onvangen. Zelfs met een goede buitenantenne dienen er nog bijkomende maatregelen genomen te worden.
Dit komt doordat de laatste 10 à 15 jaar er een overvloed is gekomen van toestellen die storing veroorzaken op het stroomnet en in de lucht binnen in huis. Bijna elk modern electro-toestel heeft een voeding met schakelende onderdelen. De toestellen zelf hebben daar geen last van, maar ze vervuilen wel de lucht en het stroomnet met sterke magnetische stoorpulsen.
Op deze manier is het met een gevoelige radio-ontvanger zoals een SDR en een binnen-antenne onmogelijk om nog zuivere en goede signalen te ontvangen.
Voor de duidelijkheid: het gaat hier niet om sterke FM radio of omroep-zenders, maar om alle andere service signalen zoals weerfoto's, Telex, Morse, Stads of Havendiensten en nog vele andere. De storing moet gezien worden als een extra ruis in de ontvanger, die zo sterk is dat zwakkere signalen hier niet meer doorheen komen, en dus simpel niet meer gehoord kunnen worden, omdat de ruisvloer dan te hoog is in de ontvanger.
| | | | |
| --- | --- | --- | --- |
| | | | |
| Voedings adapters | DECT Telefoon - Repeater | WiFi Booster - Router | Spaarlampen |
Storende toestellen zijn vooral deze met een "dikke" netstroom-adapter zoals TV's, LCD's, Laptops, printers, Telefoons, Wifi, Modems en nog andere.
Maar ook zeer vervuilend zijn alle TL lampen, Spaarlampen en LED lampen en nog andere.
| | | | |
| --- | --- | --- | --- |
| | | | |
| TL Lampen | LED Lampen | TV - Plasma - LCD | Tablet-Laptop |
Veronderstel dat je dan een buitenantenne gebruikt om beter signaal zonder storing te krijgen, dan nog ben je er aan voor de moeite.
Omdat de stoor-straling binnenin elk huis zo groot is, zal elk stuk draad van 0,5 meter of meer in huis, zich ook in deze storing bevinden, en zich als een antenne gaan gedragen. De storing gaat op de buitenmantel van de draad zitten, en dus heeft een eventuele afscherming geen zin meer. Meer nog: de storing zal op een antenne-kabel omhoog kruipen, richting naar het antenne-element, en zo bijkomend ontvangen worden, plus het nuttige (zwakke) radio-signaal gaat het terug naar de ontvanger-ingang, waar dan een slecht signaal ontvangen wordt. Hetzelfde gebeurt op het stroomnet. Alle storende apparaten, geven hun storing door aan het stopcontact van het stroomnet, en alle draden in huis worden stralende stoor-bronnen.
De storing komt ook op de aarde-draad van het stroomnet, zodat de aarde-draad als afscherming grotendeels zijn functie verliest.
Als je uw radiontvanger ook met de stroomnet-aarde aansluit, wordt het aleen maar erger.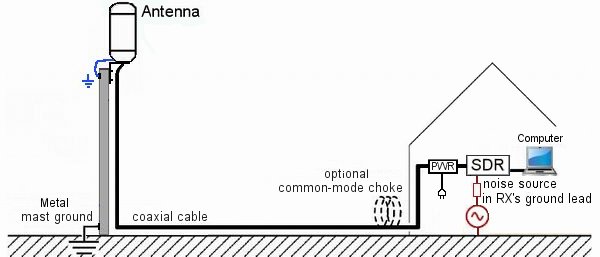 Zorg dus dat de aarde (of de kast) van uw ontvanger NOOIT op de aarde-draad van het stroom-net aangesloten is, of onderbreek deze draad.
Sluit in de plaats hiervan uw ontvanger aan op een propere aarding met een aarddraad rechtstreeks naar buiten, en met een metalen aarde-pin van minimum 1 meter in de volle grond.
De problemen met de storing op alle draden, en primair op de antenne-draden zijn slechts gedeeltelijk op te lossen. Dit kan door te beletten dat de stoorstraling op de antenne-kabel doorgegeven wordt.
Aan elke belangrijke antenne-kabel wordt aan het begin en aan het einde een "mantelstroom" spoel geplaatst. Hier in de tekening, 1 juist buiten het huis.
( Niet enkel aan antenne-kabels, maar ook aan USB kabels en voedings-kabels, kan u dat "dikke" ding zien aan het begin en het eind van de kabel )
| | |
| --- | --- |
| | |
| USB Choke en Click On | Kabel Spoel en Ringkern balun |
Deze zal beletten dat de meeste straling doorgegeven wordt naar de antenne toe.
Mantelstroom spoelen bestaan in verschillende uitvoeringen. De eenvoudigste uitvoering is een spoel met een 10-tal windingen maken met de antenne-kabel zelf, en dit op een plastic koker van 6 à 8cm diameter. De beste, maar moeilijkste en duurste methode is een speciale grote ferriet-ringkern gebruiken, waar de antennekabel ook een aantal windingen rond de ring-kern wordt gewikkeld. De ferrietkern is van een speciaal poeder-ijzer gemaakt. Deze luistert naar de naam FT240-43, en noemt soms ook een "Common Mode Balun". Info hierover vind u genoeg op internet.
Indien u toch een binnenantenne wil proberen, doe dat dan niet op het gelijkvloers, maar op het hoogste verdiep, en dan nog aan een raam.
Dat is de enige kans dat u wat ontvangst zal hebben. Probeer zoveel mogelijk te ontstoren met ferriet-kralen. Maar verwacht er niet te veel van.
Ondanks alles, zijn met een goede commerciele all-band radio-ontvanger best wel resultaten te behalen. Maar bedenk dat deze helemaal anders werken, in vergelijking met een goedkope SDR stick, die wel zeer gevoeling is, maar geen enkele voor-filtering of bescherming of onderdrukking heeft tegen sterke signalen, de spiegel (dubbele) frequenties niet weg kan filteren (valse signalen), een slecht dynamisch bereik heeft, en niet tegen onweer kan.
Maar het is mooi en verleidelijk te zien wat met een SDR stick mogelijk is.
Zie ook de link
SDR Antenna Considerations
---

mail: on1bes at Scarlet.be